i-STED DST Project
FACILITATING THE ESTABLISHMENT OF BAMBOO AND CANE ENTERPRISES THROUGH TRAINING AND TECHNOLOGY TRANSFER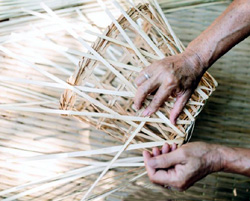 Bamboo and cane, the eco-friendly low input renewable and alternative raw material to timber is under-utilized at present in terms of its potential to utilize as a livelihood improvement material by employing value-addition techniques such as mechanical processing and preservative treatment for enhanced finish and durability. Conducting scientific interventions in the traditional products manufacturing sector and developing entrepreneurial interests in both the traditional and non-traditional artisan clusters through training and transfer of the innovative technologies developed or available for value addition for facilitating the establishment of integrated bamboo and cane enterprises for better livelihood to the marginalized and socio-politically backward artisan communities as well as the existing sick units and the new or modern industrial entrepreneurs is the general objective of the project.
The specific objective is to facilitate the establishment of replicable bamboo and/ cane-based model business units for entrepreneurs by way of training, demonstration and transfer of the innovations/technologies developed or available.
Developing better designed bamboo and cane products of market demand from durability enhanced raw material for the handicrafts and furniture sector, promoting bamboo for eco/environmentally-friendly affordable housing and industrial products are the need of the time considering the renewed interest in the use of alternative renewable materials in these sectors. R & D inputs for developing technologies for value addition in terms of preservative treatment, drying, introducing facilities for mechanical processing for dimensional specificity and for reducing human work and energy in the manufacture of commercially important end-products for better market acceptability is the main need in bamboo and rattan (cane) utilization at present.
Establishing a Center for Bamboo and Cane Processing Training and Technology Transfer in KFRI is a likely regional solution for demonstration of better utilization of the resources of the region which could indirectly help the marginalized and socially backward poor artisan communities as well as the non-traditional industrial interest groups in bamboo and cane utilization by way of promoting entrepreneurial interests of these groups.
Use of solar energy for working selected bamboo processing equipments needs or worthy to be popularized for economizing the power requirements in the processing units.
Eco-tourism and growing housing sector in Kerala offers the challenge of developing better designed domestic utilities, furniture products and housing application of bamboo and cane.