Pseudoxytenanthera ritcheyi (Munro) H.B. Naithani
Arundarbor ritcheyi (Munro) kuntze, Bambusa ritcheyi Munro, Oxytenanthera monostigma Bedd.
Common Name
: Huda, Manga (Maharashtra), Choomaree, Chiwa (Karnataka
Habit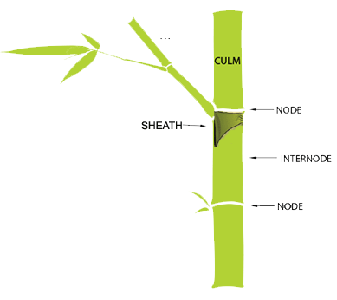 Culms : Tufted Height
: 3-4.5
Diameter
:2.5-3.5cm
Culm Color
:
Internode Length
: 37-45cm
Culm Sheath Colour
: thin, paperyat the margins, striate, sparsely covered with white appressed, stiff hairs, 15-22 cm long, 7.5 cm broad at the base, gradually attenuate upwards the apex,rounded on either sides with deep sinus with imperfect blade attached at thebase.
Length of Leaf
: 5-20 cm
Breadth of Leaf
: 2-4 cm
Leaf Shape
: : linear-lanceolate
Habitat
: Deciduous forests
Altitude
:
Soil
:
Native to
: : Maharashtra, Karnataka, Kerala, Tamil nadu
Introduced to
:
Description of Inflorescence and Flower
: largeterminal panicle of spicate branchlets bearing dense globular heads of 5-6.5 cm diameter. Spikelets 2-2.5 cm long, lessthan 2.5 cm broad, 1-flowered, glabrous, long-spinose apiculate, numerous, fertile and sterile about equal in numbers,glumes ovate-mucronate, lower smaller, upper ovate-lanceolate, lemmas linear-lanceolate, convolute, long mucronate.Paleas shorter than the lemma, not keeled, blunt. Stamens exserted, fused; anthers 5-7 mm long, bristly-apiculate,bristles some what hairy at the apex. Ovary ovate acuminate, rounded, glabrous; style long; stigma one, plumose.
Flowering Cycle
:
Flowering Reported
:Kala Naddi (1852), Satara Ghat (1870), North Kanara (1884,1889), Mahabalashwar, Ahmednagar(1892), Nilambur(1987-88), Silent valley(1995-96)
Propagation
:Seeds
Uses
: Fence, baskets, umbrella handles, walking sticks
References
: Seethalakshmi K. K ,1998