Ochlandra setigera Gamble
Neomicrocalamus setigerus (Gamble) Hsueh & T.P. Yi
Common Name
:
Habit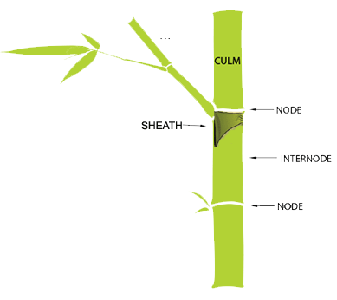 Culms : Tufted Height
: 6m
Diameter
:1.2-1.8cm
Culm Color
:
Internode Length
: 25-30cm
Culm Sheath Colour
: 15-19cm long, thin, papery,striate, wrinkled near thetop, gradually attenuate toa narrow apex, 1.1-2 cmlong, subulate, hair like,edges incurved and hairywithin; ligule very narrow,short.
Length of Leaf
: 12-26 cm
Breadth of Leaf
:
Leaf Shape
:
Habitat
:
Altitude
: 1000m
Soil
:
Native to
:
Introduced to
: Tamil Nadu, Kerala
Description of Inflorescence and Flower
: short terminal or axillary spike on leafy branchlets.Sterile spikelets in heads, smaller than the fertile,rachis smooth, spikelets cylindric, tip pointed, clothedwith white hairs. Spikelets 1.8-2.2 cm long, emptyglumes 3, hairy, 0.7-1.3 cm long, many-nerved, ovate,acute and mucronate. Flowering glume larger,glabrous, acute at the apex 2.4 cm. Palea more orless same length of lemma, membranous manynerved,acute at the tip. Lodicules 5, 1.3-1.4 cm long,3-6-nerved, 3 of them bifid. Stamens many, 26-32,exserted, filaments free, short; anthers 1.2-1.5 cmlong. Ovary narrow, glabrous; style surmounted byperigynium, at the tip 5 plumose stigmas, 3 long and2 short.
Flowering Cycle
:
Flowering Reported
:Kerala, Nilambur (1988,1994)
Propagation
:
Uses
: Basket, mats, fodder, firewood
References
: Seethalakshmi K. K ,1998, Ohrnberger D,1999