Bambusa bambos var. gigantea Bennet and Gaur.
Common Name
:
Habit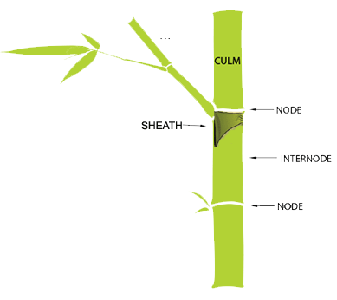 Culms : Tufted Height
: 20-35m
Diameter
:15-25cm
Culm Color
: Light green
Internode Length
: 27-35cm
Culm Sheath Colour
: usually 25-40 cm long and 30-50 cm broad, coriaceous, tip rounded, marginplated, pubescent with dark brown hairs, deciduous at the time of branch development; ligule continues with thesheath apex, margin fringed with cilia; auricle short, blade up to 12 cm long, adaxial surface with dense dark brownhairs, velvety, base cordate, tip acute.
Length of Leaf
: 10-30 cm
Breadth of Leaf
: 1.5-4 cm
Leaf Shape
: lanceolate
Habitat
:
Altitude
:
Soil
:
Native to
:
Introduced to
: South India, Kerala (Attappady)
Description of Inflorescence and Flower
:
Flowering Cycle
:
Flowering Reported
:Dehra Dun (1984)
Propagation
:
Uses
: Construction, scaffoldings, pulp and paper, edible shoots
References
: Seethalakshmi K. K ,1998