Pseudoxytenanthera monadelpha (Thwaites) soderstr.& R.P.Ellis
Bambusa monadelpha (Thwaites) O.F. Mull., Dendrocalamus monadelphus Thwaites., Oxytenanthera monadelpha (Thwaites) Alston
Common Name
:
Habit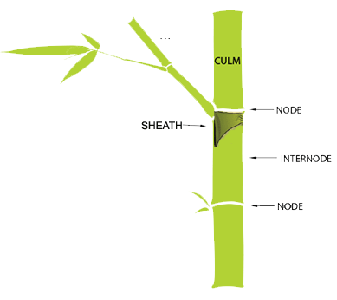 Culms : Tufted Height
: 3-3.5m
Diameter
:2.5cm
Culm Color
:
Internode Length
: 30-45cm
Culm Sheath Colour
: 15 cm long and 7.9 cm broad, truncate at the mouth, ciliate on the margins, those of thicker shoots appressed hairyon the back, younger and thinner shoots nearly glabrous; imperfect blade 7.5-12.5 cm long and 2.5 cm broad ovateacuminate,rounded at the base and decurrent; auricles large, rounded, falcate, with stiff curved bristles.
Length of Leaf
:
Breadth of Leaf
:
Leaf Shape
: anceolate
Habitat
: Moist deciduous, Semi evergreen
Altitude
:
Soil
:
Native to
:
Introduced to
: South India, Sri Lanka, Kerala, Karnataka, and some part of Tamil Nadu
Description of Inflorescence and Flower
: large leafy panicle with spicatebranchlets bearing heads of more or lessclosely packed spikelets, bracts small,ovate, rachis smooth; spikelets oftenin pairs, usually 1-flowered; emptyglumes 2-3, ovate, mucronate,sometimes ciliate on edges; floweringglume ovate-acute, mucronate, palea convolute, glabrous except at the ciliate point. Stamens exserted; anthers narrow, long, apiculate, hairy at the tip.Ovary ovate acuminate, style hairy, stigmas 3, short, plumose.
Flowering Cycle
:
Flowering Reported
:Nilgiri (1847,1851), Anamalai(1865,1871), Maharashtra(1994)
Propagation
:
Uses
: baskets, fence, thatching
References
: Seethalakshmi K. K ,1998, Muktesh Kumar M.S, 2011