Ochlandra sivagiriana (Gamble) E.G. Camus
Ochlandra rheedii var. sivagiriana Gamble , Ochlandra scriptoria var. Sivagiriana (Gamble) C.E.C.Fisch.
Common Name
:
Habit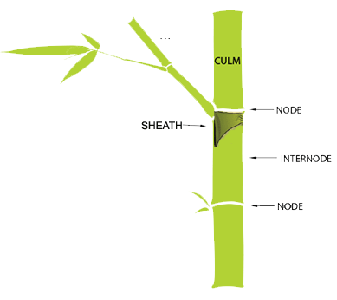 Culms : Tufted Height
: 5m
Diameter
:1.8cm
Culm Color
:
Internode Length
: 36cm
Culm Sheath Colour
: 18 cm long, striate on maturity. Length of Leaf : 8-22 cm Breadth of Leaf : 1-2.5 cm Shape of Leaf :linear-lanceolate
Length of Leaf
:
Breadth of Leaf
:
Leaf Shape
:
Habitat
:
Altitude
:
Soil
:
Native to
:
Introduced to
: Tamil Nad ( Sivagiri,Palni hills), Kerala(Vazhachal)
Description of Inflorescence and Flower
: short terminalor axillary spike or spicate panicle on leafybranchlets; spikelets cylindric, acute, slightlyhairy, fertile, few, 4 x 0.5 cm. Empty glumes2, many-veined, acuminate at the tip.Flowering glumes larger, 3 cm long, manyveined;palea 3.2 cm long, convolute, long,mucronate, membranaceous at the base.Lodicules 6, ca.1.5 cm long; 1-5-nerved.Stamens 27 to 32 exserted, filaments free;anthers slightly apiculate. Ovary oblong,surmounted by perigynium containing thestyle which is cleft at the apex in 5 plumose stigmas.
Flowering Cycle
:
Flowering Reported
:Kerala, Vazhachal(1993)
Propagation
:
Uses
: Baskets, Fencing
References
: Seethalakshmi K. K ,1998