Dendrocalamus longispathus Kurz
Bambusa longispathus Kurz
Common Name
: Rupai (Tripura), Khang (Bengali)
Habit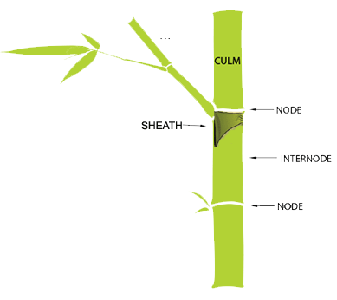 Culms : Tufted Height
: 10-18m
Diameter
:6-10cm
Culm Color
: Grayish-green
Internode Length
: 25-60cm
Culm Sheath Colour
: :erect stiff bristles, ciliate on the
Length of Leaf
: 10-30 cm
Breadth of Leaf
: 2.5- 3.5 cm
Leaf Shape
: linear-lanceolate
Habitat
: Mixed forest, Evergreen forest, common near streams
Altitude
:
Soil
:
Native to
: Asia-tropical: India and Indo-China
Introduced to
: Mizoram, Tripura, Bihar, Bangladesh, Myanmar , West Bengal, Eastern India
Description of Inflorescence and Flower
: largepanicle of interruptedly spicate clusters of spikelets, sometimes leafy rachis flexuose, flattened on alternate sides 1.3-3.8cm between clusters, glaucous-green, sometimes rough. Spikelets in heads, sometimes few-flowered blunt, nearly glabrous,5-7.5 mm long; empty glumes 2-3, obovate, blunt, with short rachillae between; flowers 2-3 fertile; flowering glumeblunt, obovate, cucullate, ciliate on the edges, many-nerved; palea oval, truncate, faintly keeled, 2-nerved between thekeels, faintly pubescent. Stamens short; anther yellow, short, ending in a black mucronate point; filaments short. Ovarybroadly ovoid, somewhat acute, hairy, ending in a rather short style and short purple stigma.
Flowering Cycle
:
Flowering Reported
:Bangladesh(1977-79), Myanmar(1912,1913),Kerala(1990)
Propagation
:Seeds, rhizome planting, culm cutting
Uses
: Construction, Pulp and paper, baskets, tooth picks, landscaping, edible shoot, sprints, containers
References
: Seethalakshmi K. K ,1998, Ohrnberger D,1999, Rao A.N,1999