Bambusa tulda Roxb.
Dendrocalamus tulda (Roxb.) Voigt
Common Name
: Wamunna (Assam), Tulda (Bengal), Mirtinga (Tripura), Jati (Assam, Arunachal Pradesh, Nagaland, West Bengal), Wati, Owati (Meghalaya), Mirtinga (Tripura), Rawthing (Mizoram), Paoshiding, Koraincho bans (Sikkim), Deobans (Behar), Longmeii (Nagaland)
Habit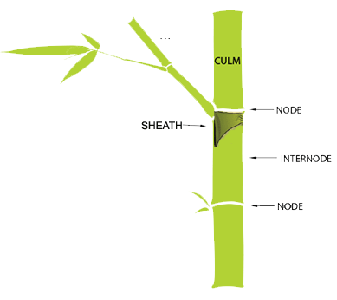 Culms : Tufted Height
: 7- 23m
Diameter
:5- 10cm
Culm Color
: Gray green
Internode Length
: 40-70cm
Culm Sheath Colour
: 15-25 cm long and broad, attenuate upwardsand rounded or truncate at top, deciduous,adaxial surface smooth and often withwhitish powder, abaxial surface some times covered with appressed brown hairs; blade broadly triangular, reniform or cordate, cuspidate, erect, hairy within; ligulecontinuous with the sheath top, narrow ,entire; auricles 2, unequal, larger onecontinuous with the blade and roundedwith ciliate margin.
Length of Leaf
: 15- 25cm
Breadth of Leaf
: 2- 4cm
Leaf Shape
: Linear lanceolate
Habitat
: evergreen & Mixed deciduous forest
Altitude
: 1500m
Soil
: Alluvial soil, sandy, clayey soil
Native to
: Bhutan, Nepal, India, Bangladesh,Burma, China
Introduced to
: Assam, Bihar, Meghalaya, Mizoram, Nagaland, Tripura, Arunachal Pradesh, Uttrakand, Kerala, Andhra Pradesh, Karnataka
Description of Inflorescence and Flower
: sometimes an immense radicalleafless panicle, sometimes a short leafy paniculate or spicate branch; branches spicate, bearing interrupted clusters offew (1-5) usually fertile long spikelets supported by shining chaffy bracts; rachis smooth, striate, spikelets variable inlength from 2.5-7.5 cm long, 5 mm broad, sessile, glabrous; cylindrical and acute at first, afterwards divided into manyflowers separated by conspicuous rachillae, bearing first 1- 2 short bracts, then 2-4 usually gemmiparous empty glumes,4-6 fertile flowers, and 1 or 2 imperfect or male terminal flowers; empty glumes acute, many-nerved; flowering glumemany-nerved, glabrous, striate 1.2-2.5 cm long and 7.5 mm broad, ovate acute or acuminate, mucronate, some time sminutely ciliate on the edges; palea rather shorter, boat-shaped, 2- keeled, with long white ciliae on the keels and penicillate at the tip, 5-7 nerves in the groove between the keels; rachillae clavate, flattened, striate, glabrous except onthe ciliate tip and occasionally the faintly ciliate edges, articulate below the glumes, so that the spikelets readily breaksup; lodicules 3, 2.5 mm long, 2 cuneate, oblong, obliquely truncate, thickened and fleshy below, especially on one side, hyaline and about 5-nerved above, the upper part long, white fimbriate, the third not thickened, hyaline, acute, long,fimbriate. Stamens long exserted; anther 7.5 mm, purple, glabrous, blunt at the tip or emarginate. Ovary obovateoblong,white, hairy above, surmounted by a short hairy style, divided into 3 long plumose wavy stigmas.
Flowering Cycle
: 30-60 years
Flowering Reported
:Bengal (1867-68,1930,1936), Assam (1930), Dehra Dun (1986)
Propagation
:Seeds, culm cutting, Tissue culture
Uses
: Construction, scaffoldings, reinforced concrete, edible, baskets, fences, stakes, handicraft, pulp and paper, flutes, boards, hats, plates, containers
References
: Seethalakshmi K. K, 1998; Rao A.N, 1999; Manual for establishment and management of bamboo plantations, march 2005