Bambusa balcooa Roxb.
Dendrocalamus balcooa (Roxb.) Voigt, Arundarbor balcooa (Roxburgh) Kuntze, Bambusa capensis Ruprecht
Common Name
: Female bamboo (English); Baluka (Assam, Arunachal pradesh ), Balku bans (Bengal), Barak (Tripura), Bhalu bans (Nagaland)
Habit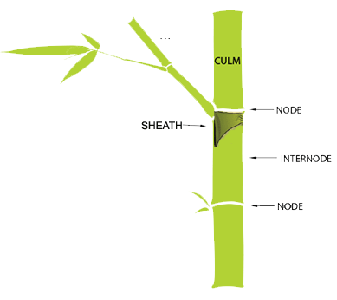 Culms : Tufted Height
: 12-20m
Diameter
:8-15cm
Culm Color
: Grayish green
Internode Length
: 20 - 40cm
Culm Sheath Colour
: Green when young, deciduous, tapering above and rounded at tip,adaxial surface glabrous, abaxial surface with densely appressed dark brown hairs, margin ciliate.
Length of Leaf
: 15- 30cm
Breadth of Leaf
: 2.5- 5 cm
Leaf Shape
: Oblong lanceolate
Habitat
: Moist deciduous forest
Altitude
: 600m
Soil
: Heavy textured soils
Native to
: North Eastern India
Introduced to
: Nepal, Bangladesh , Nagaland, Meghalaya, Assam, West Bengal, Bihar, Eastern Uttar Pradesh, Orissa
Description of Inflorescence and Flower
: Large panicle, bearing spikate branching with bracteate heads,0.6- 1.2 cm long, 4-6mm broad with0-2 empty glumes,empty glumes ovate acute, many nerved, flowering glumes similar but larger ciliate on the edges. Stamens hardly exserted anthers glabrous style hairy
Flowering Cycle
: 35-45 years
Flowering Reported
:Uttar pradesh, Manipur, Bangladesh (1983 – 88)
Propagation
:Culm cuttings,Tissue culture
Uses
: Agarbathi sticks, boats, construction, electric poles, edible shoots, frames, ladder, pulp and paper, scaffoldings
References
: Seethalakshmi K. K ,1998, Naithani H.B, 2011